Our Winter Escape with Cornish Gems

'At the end of last year in November, (sick of various lockdowns and restrictions), my husband and I felt like we needed a little family break away. We have two boys Ted aged 3 and Raffy age 1 so being able to throw our life in to a car works perfectly for us – we don't travel lightly!
We teamed up with Cornish Gems who we had previously stayed with at one of their beautiful apartments 'Shoreline' in St Ives over the Summer and that was it, we had fallen in love with Cornwall and got the bug!
When it comes to holidays in Cornwall, for us, Cornish Gems are the perfect people to deal with. I know they only accept holiday homes of a high standard, and each listing includes all the details you want to know making it simple to narrow down your selection and find what's right for you. They really do think of everything.
My husband used to visit St Ives every year as a child, but it was my first time and I loved everything about it from the stunning beaches and quirky independent shops to the beachside bars and restaurants – what's not to love? I felt like I was abroad, and it was the perfect escape and no need to sort covid passports etc … We couldn't wait to go back.
This time we were lucky to be staying in Sea Song – one of Cornish Gems' brand-new apartments, right by the beach and within easy reach of the pretty maritime town of Falmouth.

Having initially booked 3 nights away in the middle of November – yes, a British Winter staycation but stay with me because I'm going to convert you! – we enjoyed it so much, we extended our stay for the full week!
We packed up the car at 6.30am with coats, wellies, things for the beach, plenty of snacks for the boys and off we went on the 6-hour car ride from Cheshire to Falmouth. One of the reasons I'd always put off a trip to Cornwall was the long drive, but the roads were clear at this time of year – and the children were happy with games, snacks and even napped for most of it!
As the sat nav started to tell us we were almost there we drove along the sea front and could see
the newly built shiny apartment building -and we got very excited!
Ted wanted to do the honours of opening the front door, and his little face lit up when he walked inside and ran to the large windows looking out on to the beach and the green gardens below us. The boys loved finding the beautifully curated eco-friendly welcome packs for both adults and kids left on the beds. We enjoyed the organic chocolate, shortbread biscuits and local fizz, and the kids loved the edible ice cream spoons and games.
The balcony was HUGE, and the boys immediately started running round on it and jumping on the outdoor beanbags as we unpacked our luggage. The apartment was as you'd expect – immaculate and very stylishly furnished with a plush four poster bed in the master bedroom with soft furnishings by Cream Cornwall (a shop you must visit)! and a big rain shower in the en-suite.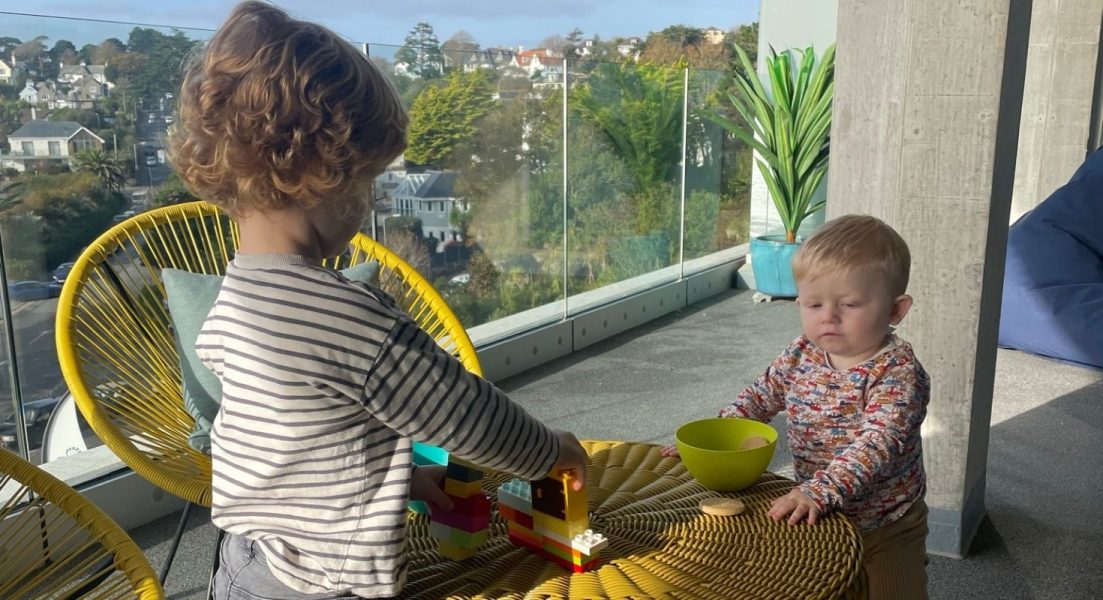 Both bedrooms, the living and kitchen areas have big glass bi-fold doors opening on to the balcony – meaning that the sea view is never far away and, for the surfers and open water swimmers there is a shared storage room in the building to stash away wet sports equipment as well as a small utility cupboard in the apartment with a washer/dryer. The apartment has everything you could possibly need, and the kitchen house all the equipment required for baking or cooking up a feast – it is perfect.
Sea Song is a brilliant base to explore the best of Falmouth too. We walked across the road to the beach, built sandcastles and enjoyed hot chocolates with whipped cream and chocolate brownies from the beach hut café. The boys were wrapped up in cosy coats and hats which they loved, and we didn't think twice about the weather, it felt like such a treat at that time of year to be outside on the beach! Lots of people were doing water sports, open water swimming and during the winter months dogs are allowed on the beach – so there was a great atmosphere even in November.
There's a beach bar and restaurant and a snack hut and bakery opposite the apartment and there's also a hotel next door to the apartment serving drinks and food.
A good 20-minute walk out (or bus ride) and we were in Falmouth town centre with everything we could need from supermarkets, museums, boat trips, independent restaurants, pubs and bars, coffee shops and of course, my favourite little quirky shops for browsing around.
We quickly felt at home here and rang Cornish Gems to extend our stay from three nights to seven – It was just the break we all needed, and the apartment felt like our own for the week.
Most of the time we ate out, making the most of Falmouth's great foodie scene, but we also put the boys to bed early on a couple of nights so that we could have a glass of wine wrapped up on the balcony, before watching Netflix on the sofa with a local take away and putting our feet up after a long day of adventuring – a true home from home!


We keep getting asked which holiday we preferred, St Ives or Falmouth? and we really can't decide because both offer something different, and we loved both trips equally. We are heading back to St Ives this Summer staying at 'Little In Sight' another Cornish Gems property but this time we are taking my sister and brother-in-law with us for their first Cornish adventure too – and we can't wait!

Have a wonderful adventure wherever you choose in Cornwall, relax, enjoy quality time with your loved ones and soak up the sea views. Love Sarah, Jon, Ted & Raffy x'