Delivering Success
We offer an innovative approach to marketing your property, providing guests with a targeted yet inspiring journey to find your Gem.
Expect to see your property page headlined with a slideshow of stunning imagery to showcase your Cornish Gem to its full potential. A professional photoshoot is all part of our service and commitment to get things off to a flying start (at no extra cost). An in-house specialist accompanies the photographer and expertly styles your home to evoke holiday lifestyle and maximise its appeal. Each property page is creatively written with engaging copy and attention to detail, highlighting your property's assets to encourage a click through to the availability calendar/prices and make an online booking.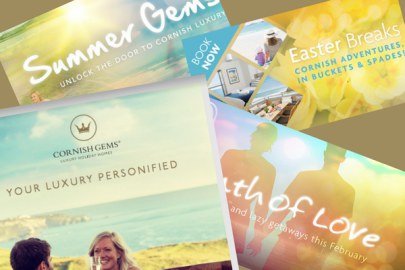 There is a core focus toward digital marketing with considerable investment in; email marketing, search engine optimisation (SEO) and paid Google advertising, all with the objective of increasing website traffic and potential conversions.
A full strategic email marketing plan reaches sophisticated hospitality standards of relevant, segmented and targeted recipients in our databases. Layered with social media marketing, we ensure all marketing efforts are integrated across seasonal campaigns, offers and distribution channels. With beautiful Cornwall at the core of our business, we invite guests to engage with us through social media channels and share their Cornish Gems experiences along the way.
Thinking outside the box, our PR company create connections with credible national and local publications including; The Sunday Times, The Telegraph, Evening Standard, Cornwall Life, Cornwall Living, Metro, to name but a few, driving interest to the Cornish Gems brand and website.
Our experienced travel advisors and customer service team are as passionate about holidays as our guests are. With a finger on the pulse of the Cornish community, we pride ourselves in offering our loyal guests a first class booking experience, whether online or via the phone.
Having visited your property, our team can speak with confidence as they find the right property to suit guests' requirements and holiday lifestyle, helping to create lasting valued relationships resulting in repeat bookings.