The very smart Salt apartments have been recently created and we are delighted to welcome Sea Salt to the Cornish Gems St Ives portfolio. This luxury 2 bedroomed apartment has been thoughtfully styled combining chic modern living with a relaxed coastal ambiance. Soak up the St Ives scene from your private vantage point with panoramic views of the blue bay and away up the North Cornish coastline. Two beautiful bedrooms and bathrooms ensure comfort and indulgence whilst the open plan layout offers ample holiday space. Sea Salt has private gated parking and is a short walk from central St Ives and the bustling harbour front.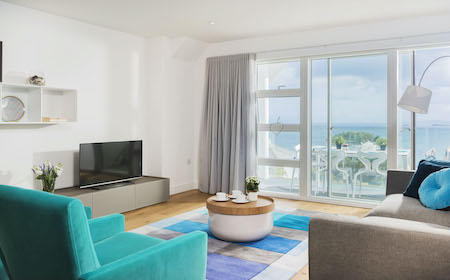 The Property
Check-in to apartment luxury and add a little luxury to your St Ives holiday. A communal front door leads into Salt where central staircase or lift access leads to the 1st floor. Once inside a central hallway leads you to the open-plan living, dining and kitchen space. The modern kitchen is well equipped for holiday cooking with every plate, mug and pot thoughtfully chosen to complement luxury living. The versatile dining table is as perfect for cosy high teas in the winter as for celebratory suppers. The relaxing living space offers ample seating for all with chic sofa and cool turquoise blue armchairs, the perfect place to sit and unwind or map out the days agenda. The master bedroom is worthy of any boutique hotel with the very best furnishings and glass sliding doors leading out to a private balcony with reclining chairs. Throw open the doors for the perfect and well earned breakfast in bed! The 2nd bedroom is no less welcoming with fresh white decor and stylish soft furnishings. The contemporary bathroom offers the very best fixtures and fittings for the perfect pamper.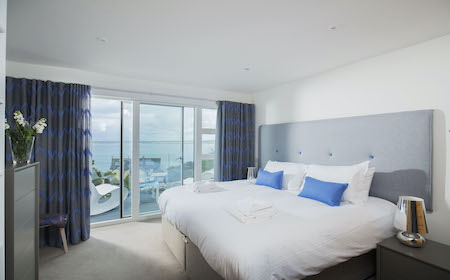 A glass sliding door leads from the living space onto a large balcony with dining table and chairs, from the wonderful elevated position the jackpot views really set the coastal scene. Follow the coastline up towards Godrevy Lighthouse and back towards the harbour of St Ives. Simply sit and unwind as you watch the boats and the ever changing seas. A further balcony leads from the master bedroom. Salt offers communal spaces around the development which guests are welcome to use. A well placed shower is located in the car park area offering the perfect place to wash off the salt and sand after a day on the water. Wander down into St Ives and explore the boutique shops and cool cafes, the local restaurants and cosmopolitan bars. Further afield, pack up the car and head out along the coast road heading West or discover the quieter shores and tranquil waters of South Cornwall. St Ives beaches are world renowed for their clean, crystal swimming seas and white sand, from Sea Salt you can discover at least 5 beautiful beaches all within walking distance.
Add a little apartment chic to your holiday and stay in style at Sea Salt.