Gems Interiors: Upcycling Furniture and Designing Sunset House, St Just.
Upcycling, restoring and repurposing existing furniture results in fewer transportation emissions, as well as less virgin materials being used in the manufacture of new products. Transforming old or antique pieces means less landfill, less waste, and a characterful, valued and beautiful end product.
For our Senior Interior Designer of Gems Interiors, Tara, design choices are made with sustainability in mind. From always choosing pieces that last, to saving quality furniture from land-fill and giving them a new (and very beautiful) lease of life, we caught up with Tara to here all about the benefits of up-cycling, and the exciting process of designing Sunset House.

Let's start from the beginning, what were the inspirations for the colour palette used at Sunset house?
The owner has an interesting history of accomplished surfing and travels extensively, chasing down the best waves. His preferred surfing destinations include Morocco and Bali, both of which have provided inspiration for a rich palette of earthy shades along with unexpected explosions of colour. The connection with the rich spice trading history of Cornwall also plays a part in the colour inspiration.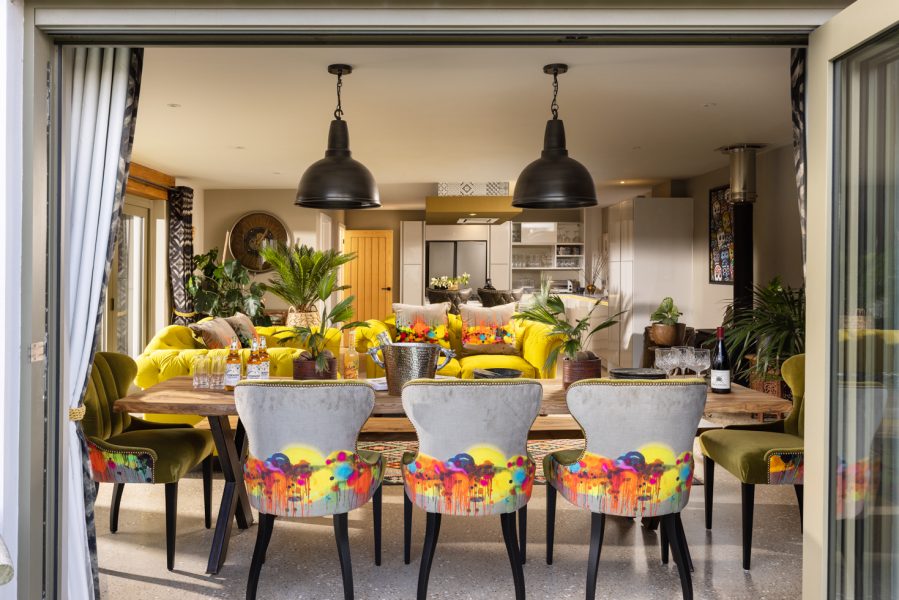 What is your favourite piece of furniture installed and why?
The dining chairs in the kitchen/dining room are probably my current favourite, they link the chartreuse sofas in this room to create a really connected social space. Supremely comfortable dining chairs are really appreciated by guests, if the seats are generous ( as these are) and are properly sprung and upholstered guests can spend an entire evening in a relaxed social setting, making memories. I like to use a complimentary luxurious technical stain proof fabric for the high wear areas and then run wild on the chair backs to create real impact. By taking this full custom approach these chairs are pretty much unique.
What does an upcycled or renovated piece of furniture add to a project that a new piece doesn't?
Very often high quality at an affordable price and a uniqueness that sets a property apart. When elders say "they don't make [……..] like they used to", they are quite often correct. In days gone by, households saved for years to buy quality furniture. The UK has a rich history of furniture manufacture, however much of what is available now is no longer made in the UK. By using some of this furniture (which is far too good to be discarded) a new fabulous piece can be created. This may be upholstery or equally it could be extensive redecoration and decoupage or even venetian plaster decoration.
How long did it take to reupholster the chaise longue, can you give an insight to the process?
It was a pre-existing piece and I couldn't bear to remove it as I think it's fabulous, however it needed to be reinvented. The bedroom where I wanted the chaise longue to be the centrepiece has a vintage, eclectic, safari feel. My inspiration for this room scheme was the safari lodges frequented by the elite in the 1950's, to create a luxurious quirky sanctuary. This bedroom does not have the sea views that others in the property benefit from, so I felt it was important to give guests of this room a different visual treat.

After two days researching fabrics I finally settled on a vintage style vibrant pine green velvet to compliment the jungle palm linen. Again, more robust fabric has been applied to the higher wear areas and more delicate fabric applied where it can be admired but not receive too much wear. The upholsterer I work with understands my brief; he is third generation and has a wealth of knowledge and expertise which has been handed down over the years in the family business. In this instance the frame was in really good condition and it was just a case of removing and replacing all the internal padding to ensure that the finished item meets all the current fire regulations. The actual process took 2 days once all the decisions had been made. I am thrilled with the finished piece, I hope others appreciate it too.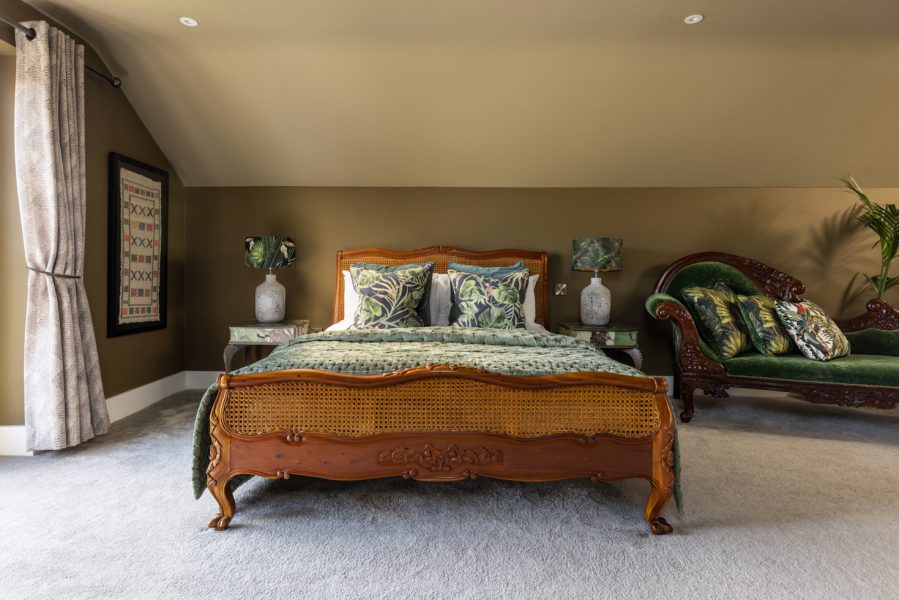 How important is sustainability for your future interior design projects?
This is very important. I blanche at the thought of using furniture which may impact our environment in a negative way, either inferior quality so easily broken and destined for landfill or not ethically produced. When there is so much quality furniture that can be picked up for a reasonable cost and made to look amazing and totally individual, why settle for less? I am not suggesting that the end product is any cheaper to produce ultimately but by reusing existing furniture it is also creating work for talented artisans. The creativity and expertise that these artisans demonstrate can often turn a piece of furniture into a work of art in its own right. Looking around the interior of Sunset House, there are so many pieces that have been repurposed, creating a rich interior that will stand the test of time. The interior is not a current trend that can be carbon dated. It is an interior which contains an ever-evolving rich history.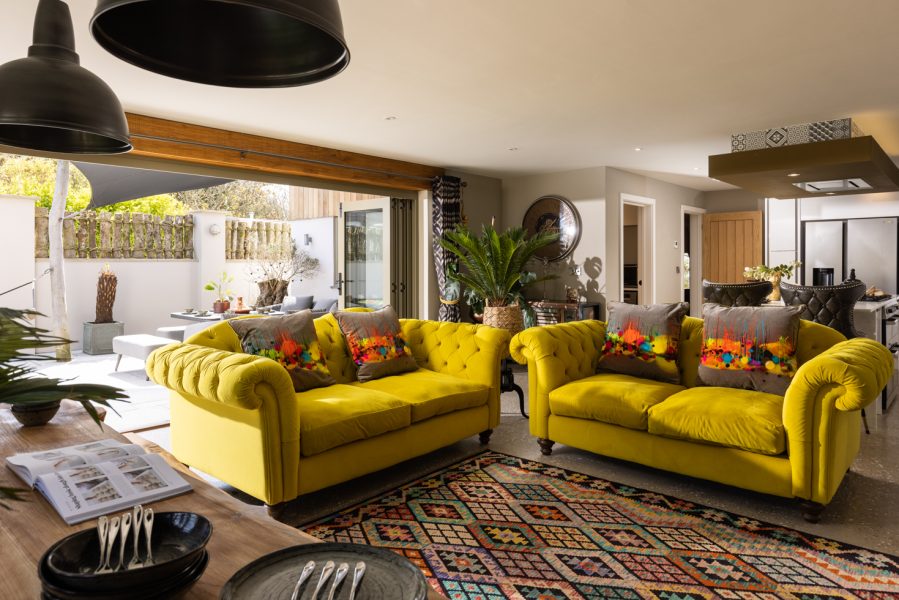 Did you know? Antique furniture is most likely to have a carbon footprint 16 times lower than modern newly manufactured furniture. They compared the greenhouse gas emissions with the manufacture of a modern chest of drawers and the use of an antique chest of drawers. (Source: Antique Furniture is Eco-Friendly)
To view Sunset House, St Just, click here