Owner Stories: Meadow's Nest, Callestick
Meadow's Nest, our wonderful new Gem close to the north Cornish coast, is a real escape from the everyday. We spoke to Kate, the owner of Meadow's Nest, who told us all about the process of discovering her perfect Cornish location that balances coast and countryside, and transforming the family workshop into a restorative bolthole for two. We discussed environmentally conscious design choices, interior style and the adventures that Kate and her family enjoy straight from their doorstep.
Kate's passion and love for Meadow's Nest really shines through, and it is clear that every beautiful detail has been considered. Read on to find out more …
1. What do you love most about Meadow's Nest?
Big skies, fantastic views, yet conveniently located just a stones throw from the breathtaking expanse of Perranporth beach and the raw North Atlantic … We had looked far and wide across Cornwall, but Callestick and Best Meadow seemed the perfect spot. We discovered the village of Callestick in 2012 when we were looking for a new home to plan and raise a family. Having both enjoyed the simple pleasures of countryside life growing up as children, we wanted to find a place to settle that could offer space, air and freedom for our future family.
Some 10 years later we have made that a reality and are proud to be able to invite guests to stay at Meadow's Nest. We have put a lot of love and care into creating a cosy and comforting base, a snug and well appointed 'nest' from which guests can venture out to enjoy all that Cornwall has to offer.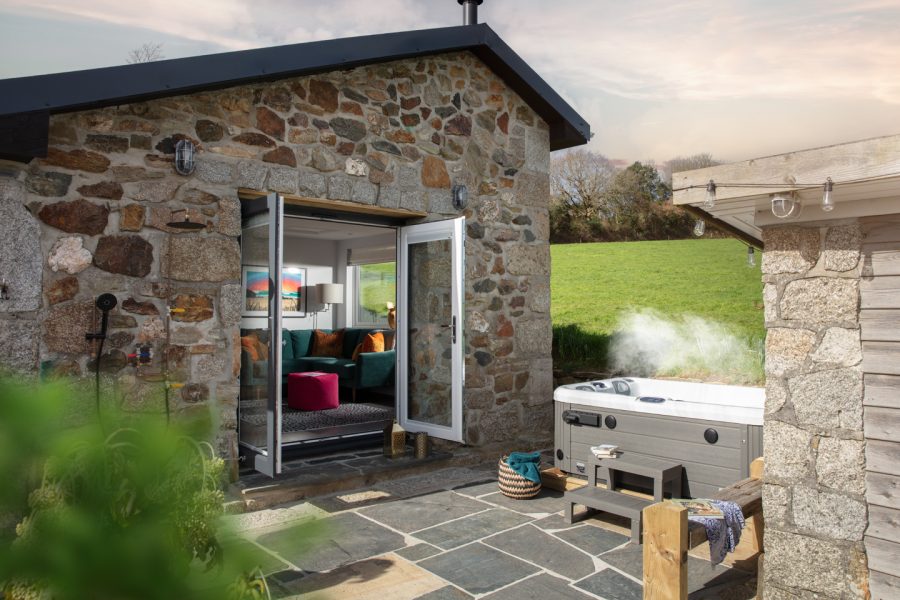 2. How would you describe your interior style, and what was your inspiration?
I would describe it as a soft, modern-industrial look. Friends have described it as a rustic chic or rough luxe! We wanted to create a cosy comfortable, peaceful space that was clean and uncluttered, and in touch with its natural surroundings. A place to unwind and fall into some mindful relaxation.
Whilst it has a touch of art deco style, its foundation is as natural as we could make it, playing with textures of wood, sheepskin, velvet, slate, copper, iron and linen. Aged water break wood from the shores of Whitstable, natural slate, copper notes in the bath and mirrors, and William Morris botanical prints help to keep it in touch with the natural environment.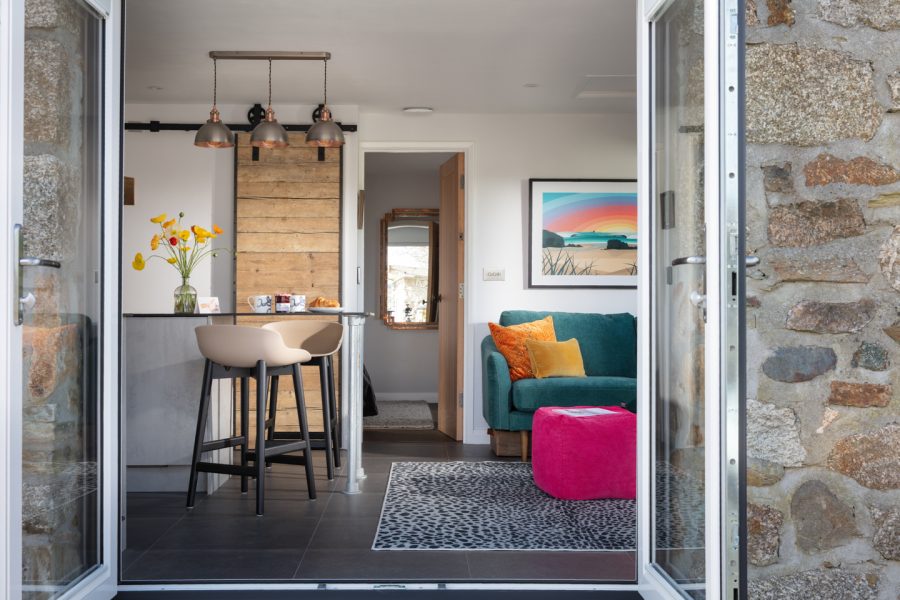 3. What kind of escape did you aim to create at Meadow's Nest?
It was important to us to create a space that felt like you were transported away from the chaos and hustle and bustle of working life and busy towns. We wanted a retreat away from it all that was fun and vibrant, yet where one could reconnect with themselves and have an opportunity for time out, to slow down and indulge in some simple pleasures.
Some may wish to explore their creativity in a natural, calm and happy environment; we find it a wonderful space to write, paint, practice yoga or pilates, sunbathe, read, cook and get cosy. Equally is a great base to get active and explore. Because we are within 45 minutes of popular destinations such as St Ives, Padstow or and Boobies Bay, Meadow's Nest has nudged us out for some fantastic day trips as a family, or even just us two.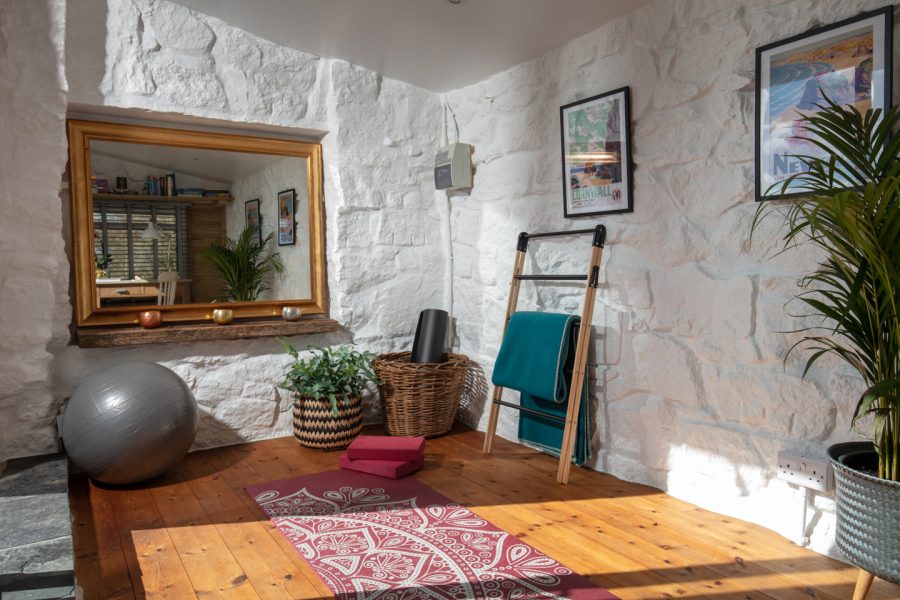 4. How do you like to spend your free-time in the local area?
Well, we have two adorable little Norfolk Terriers (Max and Minnie) who we walk daily on the quiet country lanes and through bridleways and farm land. We walk them on the beach – just 5 mins in the car from our door. The large expanse of Perranporth beach is a wonderful place to exercise our bodies and pets!
Mathew is a keen and experience mountain biker and is familiar with lots of the local trails. We enjoy a little wild swimming in the warmer months and there are plenty of small coves and quieter places to enjoy this around us. Accessing the south coast for calmer seas is within easy reach to enjoy wild swimming and other sports such as SUP'ing, kayaking and coasteering.

5. Meadow's Nest is part of our Eco-Conscious collection, and you've incorporated reclaimed and repurposed materials into the project, how important was it to you to include eco mindful elements?

Authenticity is really important to us and using simple, authentic materials not only looks good, but makes sense environmentally. We chose materials FSC approved sawn timber for the external cladding and sheet steel for the roof and gutters, which in the fullness of time can be 100% recycled.
But going further than that we really wanted to incorporate parts of our own history into Meadow's Nest. The wooden headboard in the bedroom is made from a large single plank of driftwood washed up on a beach in Kent, which we rescued after a storm whilst visiting family there several years ago; the wash stand in the bathroom is a repurposed cast iron sewing machine base, handed down from my mother.
The slate used throughout Meadow's Nest is beautiful old Delabole slate from north Cornwall. It was originally used here on site for animal water troughs and agricultural buildings. We were lucky enough to source a batch of old scaffold boards which we have now repurposed for many of the interior fittings, decking and barn door. By taking this approach and using local craftsmen and builders, we believe we've made good environmental choices that are part of us, and part of this place.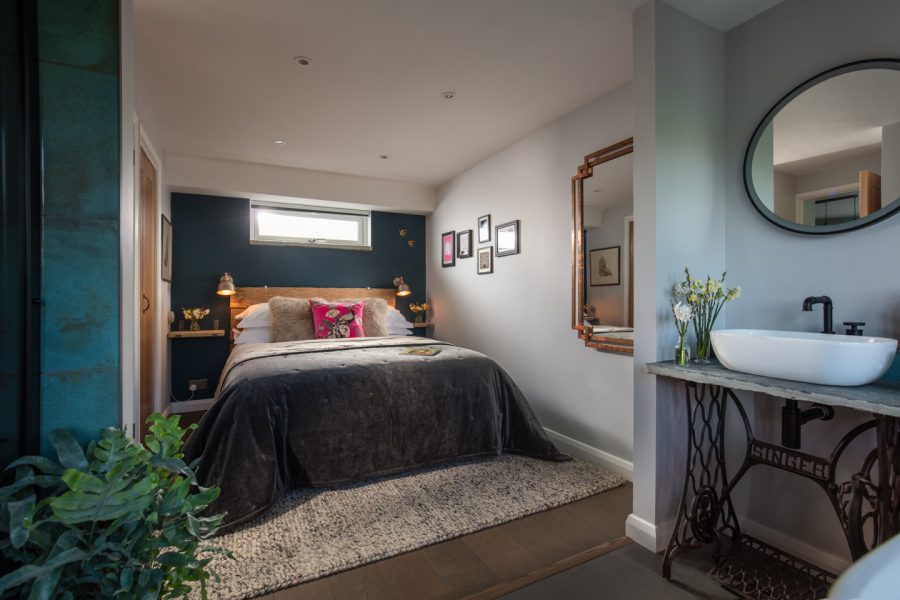 If Meadow's Nest has captured your heart, like it has ours, we invite you to experience the unique retreat for yourselves. Fall in love with the character, adventure and indulgence that this home pulls together.