A Sustainable Cornish Christmas
How to Have a Sustainable Christmas in Cornwall.
This Christmas we once again look forward to welcoming visitors to enjoy the festive season with family and friends in our beautiful properties. For many people, locals and visitors, reducing their environmental impact has become an increasingly important priority. With that in mind we've put together a guide to some of the simple ways that you can have a sustainable Cornish Christmas.
Staycation:
The closer we stay to home, the lower our seasonal travel related carbon footprint is. Global aviation accounts for an estimated 2-3% of all CO2 emissions. So for all those spending the festive season in the UK, your Christmas carbon footprint will be much reduced.
In addition, if you are looking to spend Christmas in Cornwall, Cornish Gems will plant a tree in our virtual forest for all of our guests on the 25th of December to say 'Seasons Greetings' and thank you for choosing us.

In our properties we reuse Christmas decorations and trees, creating that magical Christmas atmosphere without unnecessary waste.

Wrap it up:
When choosing Christmas cards or gift wrap look for recyclable and reusable options. We have been sending Christmas cards in the UK since the 1840s. Of course 180 years ago Christmas cards were sustainably made from printed paper without any of the glitter, foil and plastic sleeves that we see today.
Likewise, most Christmas gift wrap is not recyclable due to glitter, foil or being laminated. Wrap your small gifts in an attractive headscarf or fill a fabric stocking or reusable gift box available from the Cornish Gems Shop. There are now lots of sustainable alternatives available, you could even simply layer tissue paper and secure with fabric ribbon. Reuse newspaper, magazine pages or gift bags you've received, embellish with Christmas themed ink stamps and paper raffia ribbon.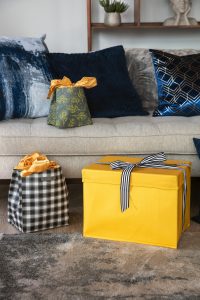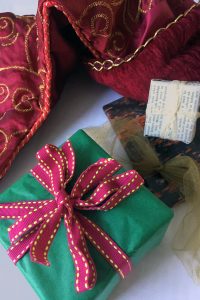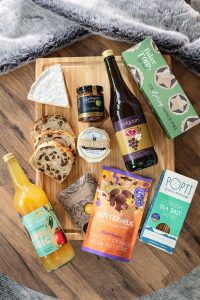 Buy local, eat local:
Our newly revamped welcome gift includes all locally sourced or produced products, including Origin coffee, Tregothnan tea and especially for Christmas, Baker Toms mince pies or a seasonal chocolate bar from Cornish chocolatiers, Chocolarder. 
Guests can opt for a Cornish Food Box gift card as their welcome gift, order by the 16th December to secure your locally sourced Christmas treats. Or you can add one of our hampers, filled with Cornish goodies to your standard welcome gift.
Support local makers and small shops by shopping at galleries, independent shops and Christmas markets. You can make Christmas extra special with personal gifts that have less packaging and a lower carbon footprint!

Leave the car:
Think twice before jumping in the car. Using public transport is much kinder to our environment. A bus or train journey can even give you a new perspective on well travelled routes. The branch line train from St Erth to St Ives is the ideal way to avoid waiting for a parking space whilst enjoying spectacular views of St Ives Bay and Godrevy Lighthouse.
Finally, take advantage of any sunny spells to stretch your legs. A brisk walk is always welcome  after a big Christmas dinner!

Our sustainability journey:
Cornish Gems were thrilled to be shortlisted for an award from the Cornwall Sustainability Awards in the 'Carbon Neutral' category. 
Highlighting our newly revamped welcome gift options, our goals were to support Cornish producers and suppliers, to minimise food miles, to reduce the waste of unwanted products, to remove unnecessary journeys from the distribution process, and finally to also offer our guests luxurious, local and sustainable choices.
We look forward to continuing this journey next year and wish you all a happy 2022!