Exclusive private dining experiences – meet Ben Tunnicliffe
We are delighted to team up with Cornish Michelin-starred chef Ben Tunnicliffe, to offer our guests an exclusive opportunity to create private dining experiences in our luxury holiday homes, what could be better than that? – read on to find out more.
Exclusive to Cornish Gems' guests, "the best seafood chef in the west", Ben of the Tolcarne Inn, Newlyn, will join you in your home to cook up a wonderful feast and entertain your party with top chef tips and demonstrations. Or, simply sit back and enjoy watching an award-winning chef at work – that's luxury self catering in style. Whether you are looking to celebrate with friends or want to create a special Cornwall holiday memory, we invite you to try something new during your next escape.

Ben and his chef brigade will offer a very bespoke service with every menu designed in consultation with you. If your party are budding chefs and foodie aficionados themselves then how about a demonstration to start off the evening? Roll up the sleeves and learn to fillet fish flipped straight from the quay in Newlyn. If you'd rather leave the culinary skills to Ben then that's fine too, simply watch the master at work as you pick up top chef tips and enjoy pre-dinner chit chat. After creating an 'at the pass' ambiance of prep and plate up, dinner is served.
With a larder of seafood just moments from your holiday door and a cellar of complementing wines, let Ben deliver a true taste of Cornwall for a very persuasive stay-at-home option during your holiday.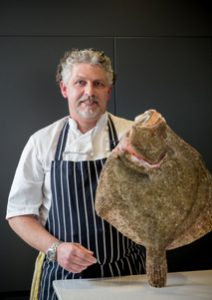 Meet Ben:  With a passion for the Cornish larder and the quality and heritage of his ingredients, it's little wonder that Ben has become a respected leading figure within Cornwall's growing food culture. Having made a name for himself with a Michelin Star some years ago, Ben is famous for cooking the freshest seafood in Cornwall at The Tolcarne Inn – his pub which is just a short distance from Newlyn Fish Market. Ben is an adventurous soul with a hands-on approach to food, his family and fish!
Gems approved:  As a team of foodie lovers ourselves,  jumped at the chance of trialing Ben's private dining experience for ourselves. After a throughly enjoyable evening, we gave it our highest recommendation! Gathering at Pednolver in St Ives, it wasn't long before the we were head down in filleting Turbot, whisking the hollandaise sauce and assembling the rhubarb mille-feuille as Ben's infectious charm and fuss-free approach led to smiles and helping hands.
Keen to showcase Ben's talents further, we invited BBC presenter and TV journalist Mariella Frostrup to review the new experience for The Daily Telegraph….. read her rave review here.
Our portfolio of stylish homes set the scene offering modern kitchens and beautiful dining rooms for guests to gather, celebrate and enjoy fine Cornish food and drink.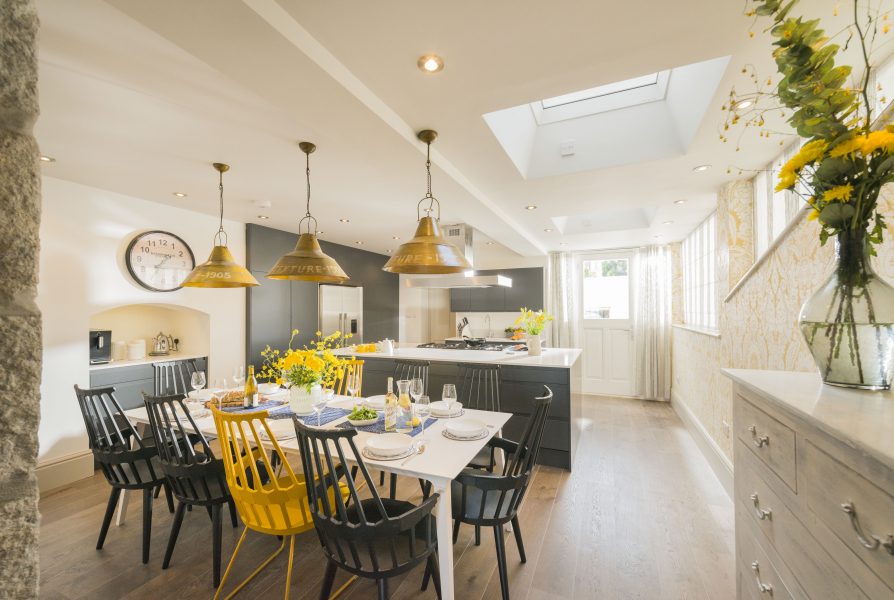 To find out more about Ben's private dining experiences, contact our travel experts on 01872 241241 or email enquiries@cornishgems.com