Living like a local in St Ives
St Ives has always had a special place in our hearts, it's where it all started for us after all. So we asked our MD Julianne, to set her 'out of office' and enjoy a luxury staycation (or near-cation should we say) and share her love of this most beautiful Cornish harbour town.
"Life is generally very busy in my family with my husband and myself both having our own businesses"
Subsequently, the opportunity to take time off together can present its challenges. When the chance arises, our holiday time is absolutely precious with our three year old daughter, Lola, so we want to make the right decision on where to go. Over the last year we've enjoyed one European holiday together (a week in the Canaries), a weeks holiday in the Isles of Scilly, Cornwall and two short breaks, both in St Ives, Cornwall.
St Ives is very close to my heart, having grown up and spent all of my youth living there prior to heading to Cheltenham to study for a business and marketing degree (after 10 months travelling Australia on a work visa). Although I'm pretty well travelled, I can honestly say that travelling a short distance to enjoy a 'staycation' (or should I say 'near-cation') certainly provides many advantages.
St Ives is often celebrated for being the jewel in the Cornish crown and it certainly is from my perspective. I wanted to take this opportunity to share my family's St Ives travels, to show how making a concerted effort to avoid airport parking, queues, flight delays – combined with the risk of arriving at a destination (already feeling drained) to a standard of accommodation that doesn't quite stack up to the brochure or expectations – can actually be the best decision. I can certainly vouch for that first hand.
Myself and family live together in a small village between Truro City and Falmouth so our journey time to St Ives is around 30-40 mins. On both occasions, we booked a Cornish Gem aptly named Waters Edge on the Harbour front. Although the property has no parking, there was ample room to pull up outside whilst we unloaded our bags. My husband then drove our car to the nearest public car park (2 minutes walk away) where our car remained for the whole duration of our stay for a few pounds per day.
Myself, husband and Lola love everything to do with living in Cornwall so to actually stay literally a few metres from the beach for us (when we live inland) is just 'heaven sent'. The therapeutic and restful quality of hearing the waves lapping on the sand directly below your window, whilst drifting off to sleep is hard to find and even tougher to beat. Couple this with a sumptuous, bed with all the trimmings (thanks to committed property owners that understand and deliver the core values that Cornish Gems strive for).
Waters Edge is small, but perfectly formed (pardon the cliché). Its plum location ensures that all the delights of this cosmopolitan harbour town are in easy reach on foot – there's really no need to get back into the car (until the dreaded day of departure of course).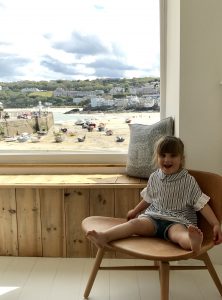 Our days were filled by lazy afternoons on the shoreline, BBQ's on the beach, visits to galleries, walking the coast paths, eating out (I think we used the cooker once). We didn't mind eating out for most meals as we'd made considerable savings choosing to holiday here in Cornwall.
The ebb and flow of maritime life from every window was mesmerising, in fact the full width lounge window was like a 3D picture. I can't compliment enough how incredible the ever-changing movement of tidal waters are on your head space – for myself and my husband it's like pressing the reset button, an instant stress reliever. The added bonus of course is staying in a world class destination with access to five golden sand beaches and a wide spectrum of cafes and restaurants on the doorstep serving some of the best local produce and seafood. From Waters Edge, we could see the local fisherman venturing out to source the catch of the day that potentially would be served up on our plate that very evening, what could be better? So it's of no surprise that today there's a high standard of seafood gastronomy available in St Ives.
I'm a shopaholic! I don't have to be spending, I'm very happy window shopping and having a nosey, particularly with so many curio shops and independent boutiques on offer in St Ives. Shopping however is something that both my husband and toddler are completely against…..shopping is detested, full stop. However, on holiday in St Ives, my husband is more than happy joining in with my favourite pastime along with Lola, as the buggy wheels bounce up and down the cobbled streets whilst we browse. We buy all sorts of momentos which later get mounted on shelves and walls at home to remind us of one of our favourite places on earth.
A beach BBQ. It takes all of 5 seconds from holiday door to sandy shore. We've done it wearing jumpers and coats as well as T-shirts, and it's just as much fun.
Shopping: A few hours perusing the delights of Tregenna Hill, High Street, Fore Street, Harbour and the smaller streets that interconnect them.
Culture: A mecca for budding artists, discover the inspiring community of galleries. For example; The Barbara Hepworth Museum and Gardens, Porthminster Gallery or The Tate that has reopened following it's extension and refurbishment (to name but a few).
Dining: A meal at Porthmeor Cafe, finishing with a colourful sunset on the beach. A window seat at Caffe Pasta watching the ebb and flow of harbour life whilst eating some fabulous food at reasonable prices. A balcony table at The Hub and choose from their range of homemade burgers – this one is a hit with my husband every time. Breakfast or lunch at Searoom Cafe, literally a stones throw from the front door, it's not as well known but a real gem.
Beach life: There are 5 beaches to visit; Porthmeor, Porthgwidden, Balamuz, Porthminster and the Harbour beach
With the distant memory of airport and transport chaos from our New Year Euro trip, I felt smug returning the 24 miles home from St Ives. Although sad to leave after a magical stay, to promptly arrive back home with no major effort at a reasonable time – helped put the cherry on top of the holiday cake. After a night's sleep in our own bed, my husband and myself go to work the next day feeling rested, rejuvenated and ready to re-start our daily routine.
By reading this, those that are seasoned visitors to St Ives may also share and appreciate some of my St Ives holiday highlights. Or maybe this will inspire those that have yet to visit St Ives (or in fact Cornwall), and will motivate you to find your favourite corner of Cornwall, that becomes the nostalgic foundations for longstanding future holidays and memories for you and yours.
Lola is already asking "when are we going back to our holiday house on the beach?". Of course, I haven't actually told her it's not 'our house' but to her it is a home from home, and that's the start of a memory right there isn't it? Happy holidays" 
Julianne Shelton (Co-Founder/Owner of Cornish Gems)
Find out more about our luxury holiday cottages in St Ives