Hello autumn – Luxury autumn breaks and October half term adventures
Hello autumn! We've some great Gems to tempt you to Cornwall for a luxury autumn break including stunning family homes made for half term adventures on the coast. Our sun hats and sandals are packed away and we've snuggled into chunky knits here in Cornwall ready for the breath of fresh air that autumn brings.  Read on to find out more …
What a summer we had as 'record temperatures' headlined the news and visitors flocked to the coast to cool off, Cornwall was more appealing than ever. But it's not all about summer here as the magic of the Duchy can be enjoyed throughout the year and autumn is certainly full of appeal for a luxury break away.

October half term is time for family adventures and where better than the natural playground of the coast, beaches, moors and clifftops.  Head to the beaches to explore the rock pools and caves or comb the beach for your own piece of Cornwall. Or step out onto the cliff tops for a breath of fresh salty air and retire (rosy cheeked) to the luxury of your Cornish Gem at the end of the day. Check availability here and map out your half term days.
It's time to celebrate in style. Perhaps a big birthday is on the horizon or it's about time you caught up with long lost friends and family? We've got the keys to some of Cornwall's finest private homes for a luxury break and this autumn we invite you to check-in for a short break (or longer) and make yourselves at home. Team up with private chefs for a night to remember or book an experience from wine tasting to cookery classes for the whole party to enjoy – our team can help tailor your holiday.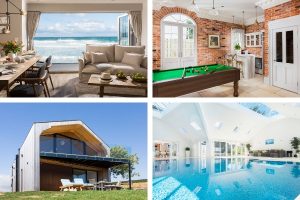 Love, laughter and lazy days. Time out intentions can so often fall by the wayside so picture the scene as you flick the out-of-office switch, wave goodbye to colleagues and head west to the Cornish landscape. Looking for something to do? Padstow Food Festival is not to be missed from the 6-9 December as celebrity chefs showcase their talents alongside over 100 food, drink and craft producers.  Or how about a luxury break to enjoy a new experience be it themed cookery weekend or even an art class? Autumn is time for you.