Cornwall's Top 8 Properties for Surfing Breaks
Cornwall's top 8 properties for surfing breaks are ideally positioned for short, salty strolls to the beach, and an endless supply of waves. Whether you're a pro city-surfer or new to the sport, dive into the Cornish Gems portfolio and book a luxury surf holiday.
Do you lust after your next fix of ocean, or want to delve deep into Cornish surf culture? Choose from Cornish Gems best beachside retreats that are really making waves … surf breaks in Cornwall have never been so luxurious.
1. Glas Mor, Mawgan Porth, Sleeps 8. 
Built for the stylish traveller, the fresh hues of our coastline are blended into the scandi-style interior of this gem. You'd be hard-pushed to want to leave this beach house for anything other than a surf session at your local beach.
Probably best for beginners and the ideal place to learn to surf in Cornwall, the sheltered cove of Mawgan Porth enjoys a reliable swell, meaning you are never shy of those sets. This beach escapes the summer crowds somewhat, so take advantage of the surf school and paddle out together as newbies.
Nearest surfing beach: Mawgan Porth
2. Seascape, Marazion, sleeps 6.
The clue is in the name. Perched on Marazion's beachside and boasting views of the famous St Michael's Mount, Seascape is the ideal abode for a Cornish surf retreat. Plot your coastal adventures on your sea-facing terrace, amidst the early sounds of the ocean then pack up to hit the breaks in the west.
Promising golden sands and spectacular sundowners, Mounts Bay and the whole west coast is a sought-after surf destination among the pros and novices alike.
Nearest surfing beaches: Praa Sands, Porthleven and Sennen
A natural playground, a bucket-list surf destination, and a prime location for sunset seekers; the swell of the iconic Fistral beach beckons surfers from across the world, holding host to a range of worldwide events and competitions. 
Chasing waves is the perfect base for mooching down to the lively beach and sharing the waves with some of the best at their sport. After a day spent in the hazy sunshine of Newquay, the balcony begs you to snuggle up on the outdoor chairs and sink into an evening of great conversation afront that mesmerising turquoise water.
Nearest surfing beach: Fistral Beach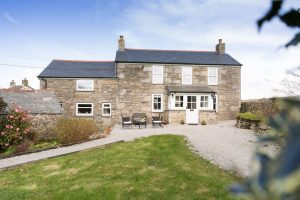 A magical setting for a surf break in Cornwall. Countryside haven meets surfers paradise at this charming  coastal cottage. When it comes to insider knowledge, Stonesthrow lets you in on a special secret (and you didn't hear it from us). Regarded as one of the last truly 'locals' beaches in Cornwall, Potheras cove is the closest beach to the cottage, and only accessible by foot. The secluded cove attracts dedicated local surfers, occasional seals and little else, giving you space to ride the waves to your hearts content, far from the madding crowds.
The magic isn't left behind as you clamber up the path back to the cottage, where you are greeted by the friendly horses who await your arrival. Stonesthrow Cottage is perfectly placed for spontaneous darts to the sea.
Nearest surfing beach: Sennen
5. Gwynndreth, Gwithian, Sleeps 6.
The epitome of coastal bliss; blues and reds interject the crisp white, and the garden rolls down to the sand. First of all, Kick off your shoes and go barefoot. Breathe in that salty air, and run with your board to the shoreline.
This on-beach abode couldn't be closer to those which you see in the movies.  Imagine surfing as the sun dips below the horizon, and retreating to your dune-top gem for a fresh, al-fresco dinner.
Nearest surfing beach: Hayle Beach 
6. Wild Palms, Praa Sands, sleeps 6.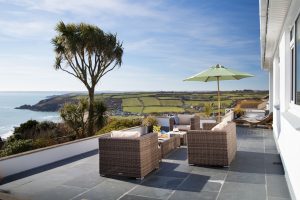 If there are waves to be had anywhere along the south coast of Cornwall, you will almost certainly find them at Praa Sands! Designed with luxury in mind, and overlooking a mile-long beach with dedicated swimming and surfing areas, Wild Palms provides the perfect base to make those precious Cornish memories.
Post-surf, relax and de-sand in the heated outdoor shower and pick from the handful of restaurants that pepper this special stretch of coast.
Nearest surfing beach: Praa Sands
Lush vistas of blue and green epitomise the tropical vibe of Sea Chimes. This property's spacious balcony overlooks the River Gannel, and the idyllic Crantock beach that lies just upstream. Crantock welcomes you with sweeping golden sands, grass covered dunes and plenty of boards for hire. Embrace the elements, dive into the hub of Pentire's surf culture, paddle-board along the river and stargaze from the front row seats of your seaside sanctuary.
Nearest surfing beach: Crantock 
8. Sandyford, Holywell, sleeps 8.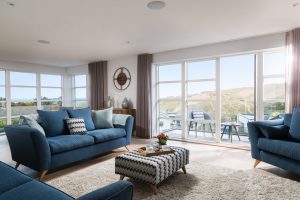 Slip away from city life and discover Cornwall's famous waves at Holywell. Part of a unique handful of homes designed especially for outdoors lovers, Sandyford boasts views of the grassy dunes.
This property's pristine interior is as soothing as it is refreshing. Because of its open plan layout, the property provides the perfect space for quality time together. And as for the surfing, taking to the waves has never been so easy. Surf schools are on hand at Holywell, and for those who aren't surfing, you should know that lounging the day away on the shore is always encouraged.
Nearest surfing beach: Holywell
For more properties that are just a hop and skip from the beach, browse our collection of luxury holiday homes in Cornwall.
Written by guest blogger Sophie Roberts