Our Sustainability Journey
Cornish Gems: Our Sustainability Journey.
At Cornish Gems we have always loved Cornwall, the landscape, the coast, the culture and the people. We understand that loving Cornwall is not enough, we are pro- actively searching for ways across the business to reduce our impact on the planet.
Of course we recognise that there are no quick fixes to climate change. However, we are also determined to contribute what we can, in every way that we can to build a more sustainable future.
We have been heartened by the recognition that we, as a company have received in recent months for our efforts. Following on from being shortlisted for a 'Carbon Neutral' award at the Cornwall Sustainability Awards we were thrilled to receive a Green Tourism Silver award. The internationally recognised accreditation was received after fulfilling the wide ranging requirements in the application process.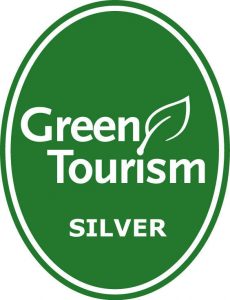 Last week it was confirmed that our team member, Emma Fashokun is a finalist in the 'Unsung Hero' category for the upcoming Cornwall Tourism Awards. She was nominated for her long standing commitment to sustainability.  Working within her role at Cornish Gems she has championed corporate community responsibility and the plastic free movement.
Here are some of the sustainable projects that we have implemented in the last year:
We undertook to revamp our welcome packs post- Covid. Our goals were to support Cornish producers and suppliers and minimise food miles. To reduce the waste of unwanted products. To remove unnecessary journeys from the distribution process. Finally to also offer our guests luxurious, local and sustainable choices.
The solution we arrived at was to give our guests 6 options that they could select from within the booking process. They can also change their minds and amend their choice within their guest accounts.
Kids Packs:
We also launched a  sustainably-focused kids packs in 2021 that can be added to the Welcome Gift. Featuring our coastal activity book including an original poem and beautiful illustrations. Children will be led through the wonders of the Cornish coastline and how to help look after it. There is a strong plastic free and ocean conscious message running through the book. 

The kids pack also includes Cornish Wildflower seeds to encourage re-wilding and the creation of insect friendly habitats, wooden pencils, edible ice cream spoons and a plastic-free packaged snack.
The Coastal Activity book and Cornish wildflower seeds are also available in our online Cornish Gems Shop.
Charity of the Year:
Every year Cornish Gems select a 'Charity of the Year'. In previous years we have supported Cornwall Wildlife Trust, Cornwall Air Ambulance and the RNLI. In 2021 we voted to champion 'Surfers Against Sewage'. Our guests can opt to add a donation to their booking of £2 – £25, so far this year, we have raised over £2000.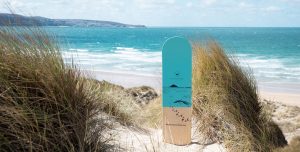 We have also organised beach cleans and given away wooden bellyboards via Instagram, asking people to 'leave only your footprints.'
Since the inception of our virtual forest last June we have planted 407 trees in communities around the world. This has offset nearly 153 tonnes of CO2 emissions. We have calculated that this is the estimated equivalent of offsetting the carbon footprint of around 3000 car journeys from across the UK to Cornwall. 
Guests have selected to plant trees as their welcome gift. We also have thanked our owners for their support throughout the pandemic with a tree gift. Finally our employees can 'purchase' trees via our reward scheme and we also gift a tree to employees on their birthday.
Car Chargers at our Properties:
The advantages of electric cars to the environment over traditional petrol cars are well documented. Above all they include zero exhaust emissions which improves our air quality and well being.  Six of our properties currently feature electric car charging points, we will be working in 2022 to increase this number. They are:

Wavewatcher: Myenergi ZAPPI 7kw fast charging point.
Sunset: TESLA electric charging point.
Menydh House: shared Pod Point charging point.
Treloan Barn: Pod Point charging point.
Little Spring: TESLA electric charging point.
Bankside: Electric charging point.
Ilha View and Ocean's Edge: Pod Point charging point
The Dairy and The Cowshed: Smart 7.2KWh car charger

What's Next?
As a Cornish company it is embedded in our core values to look after the beautiful county where we live and work. Finally, more than that, it is about providing quality Cornish holidays whilst endeavouring to reduce our impact on our planet.
Keep up to date with our sustainability journey here.